Yosemite
Valley
Explore the magic of Yosemite Valley, the heart of Yosemite National Park. "The Incomparable Valley" is seven miles long by one mile wide and is the hub for many of Yosemite's greatest attractions, including Half Dome, El Capitan, Upper and Lower Yosemite Falls, and more.
Visiting Yosemite Valley
Yosemite Valley is about a 55-minute drive from Tenaya at Yosemite. Consider taking a Yosemite 360 Tour to maximize your experience, relax as a passenger, and take in the grandeur of Yosemite.
If you are visiting for the day, look for parking in Yosemite Village. There are multiple parking lots and free shuttles to take you to your preferred destination in Yosemite Valley.
Tunnel View
Tunnel View feels like the portal to Yosemite Valley's dreamlike realm. It is an iconic vista that highlights Bridalveil Fall and the granite faces of El Capitan and Half Dome.
From Tenaya at Yosemite, Tunnel View is about a 50-minute drive.
There are often crowds gathered at Tunnel View. If you are looking for a viewpoint with less people, Artist Point is a great alternative. It is a moderate, 2.3-mile round-trip hike from the Tunnel View parking lot and offers the same view of Yosemite Valley.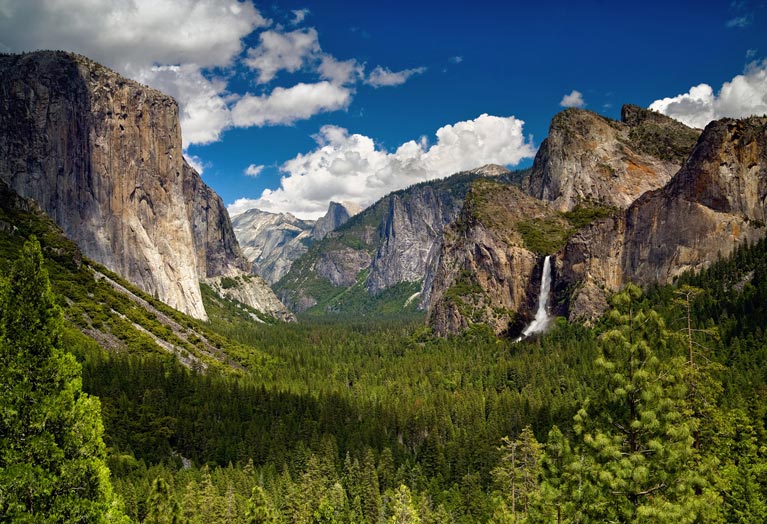 Half Dome
Of all Yosemite's gigantic monoliths, Half Dome's glacier-sheared granite face is perhaps the most iconic. Rising nearly 5,000 feet above the Valley floor, it is one of the National Park system's most celebrated landmarks.
Where to see Half Dome in Yosemite Valley
It is visible across much of eastern Yosemite Valley, including on the road between Yosemite Village and Yosemite Lodge and roads near Curry Village.
Stoneman Meadow is one of our favorite vantage points.
Mirror Lake is also a popular place to see Half Dome from up-close; you can access it via a two-mile round-trip walk on a paved trail.
Hiking Half Dome
Half Dome is among the Park's most recognizable landmarks – and one of its most popular challenges. And although thousands make it to the summit each year, the hike to Half Dome is not something to be taken lightly or attempted by the unprepared.
It is a 14 to 16 mile roundtrip hike to Half Dome from Yosemite Valley.
The last 400 feet to the summit are an ascent up two metal cables. The cables are typically in place from the last week in May to the second week of October.
Permits are required seven days a week. You must obtain a permit in advance by applying online. No permits are issued in the Park and there are usually more applicants than there are permits. See the National Park Service page on Half Dome Permits for more information.
El Capitan
El Capitan made its way into mainstream fame with the 2018 Oscar-winning film Free Solo, but it has long been a celebrity amongst rock climbers and park enthusiasts alike. Rising 3,000 feet above the valley floor, it is a favored natural wonder of Yosemite. On a fall night, if you see what looks like stars on the face of El Capitan, you are seeing headlamps from the many climbers attempting the renowned ascent.
Where to see El Capitan in Yosemite Valley
El Capitan is best seen from the roads in western Yosemite Valley.
El Capitan Meadow is one of the best vantage points to view the granite monolith – and to watch for climbers.
Yosemite Falls
A highlight of the Park, Yosemite Falls (2,425 ft) is one of the world's tallest waterfalls and is comprised of three separate falls: Upper Yosemite Fall (1,430 ft), the Middle Cacades (675 ft), and Lower Yosemite Fall (320 ft). Depending on the year's snowpack, it flows from November through July, reaching a thundering climax sometime in May.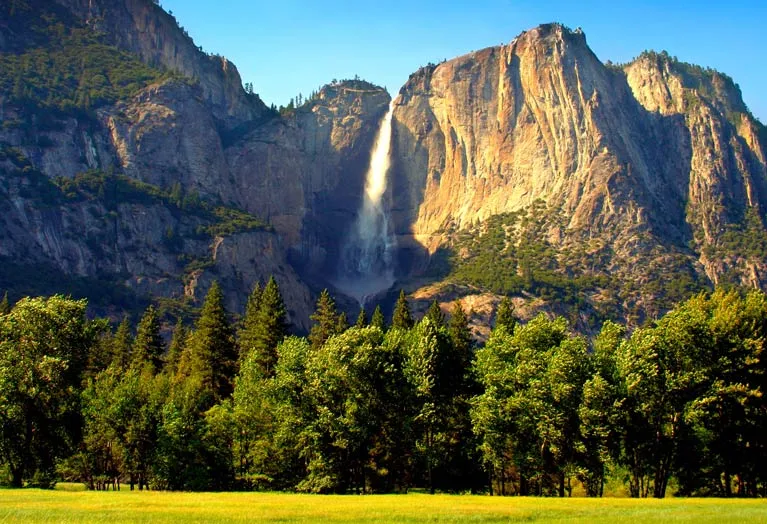 Where to see Yosemite Falls in Yosemite Valley
You can see Yosemite Falls from multiple vantage points in Yosemite Valley, including Cook's Meadow and Housekeeping Camp Beach.
A one-mile loop trail leads to the base of Lower Yosemite Fall. The eastern side of the loop, from the shuttle stop to the base of the waterfall, is wheelchair accessible.
It is 3.6 miles to the top of Yosemite Falls (7.2 miles roundtrip) with 2,700 ft of elevation gain. This hike is not for the faint of heart – but worth the climb! During the summer, plan to start early and carry plenty of water.
Hikers with a bit more energy can continue another mile to Yosemite Point, a dramatic vista with magnificent views of the entire eastern end of Yosemite Valley.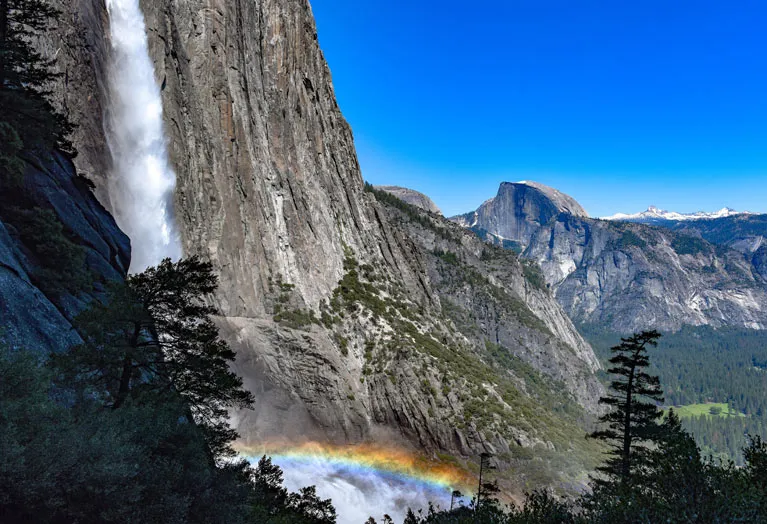 Vernal Fall, Nevada Fall, and the Mist Trail
The Mist Trail is a steep climb rewarded by up-close views of Vernal and Nevada Falls. You cannot see either of these falls without a hike – but it is worth it! At high flows, the mist off the falls will completely soak you – in spring and early summer, raincoats are encouraged. These falls maintain reliable flows in every season, even in the driest years.
The Mist Trail (to the top of Nevada Fall and back) is 7 miles roundtrip.
Your first glimpse of Vernal Fall on the Mist Trail comes about 0.6 miles in, and 1.2 miles and 1,000 vertical feet gets you to the top.
Another mile and a quarter brings you to the top of the 594-foot-high Nevada Fall.
Permits are not required to hike the Mist Trail.