See Yosemite in the winter
Available November 1, 2023 – January 10, 2024 AND March 15, 2024 – April 30, 2024
Winter Tour Update: Seasonal Adjustment
Please note that from January 11, 2024 to March 14, 2024, our Yosemite Winter Tour will be temporarily unavailable. However, our Private Tour option remains open during this period. We kindly encourage you to consider our Private Tour experience. Thank you for your understanding.
Our Winter Yosemite Valley tour includes some of the most famous features of Yosemite: Wawona's Pioneer History Center, Yosemite Valley including Tunnel View, Bridalveil Fall, Half Dome, Yosemite Falls and Valley View. On this Yosemite bus tour, you will have time to explore Yosemite Valley on your own feet as well as access to free shuttles.
Price:
Adults $165, Seniors (62 & up) and Military $145, Children (12 & under) $95
Hours:
Boarding begins at 8:30 a.m. in front of Tenaya Lodge. Tour leaves promptly at 8:45 a.m. and returns at 4:30 p.m.
Days:
Daily, November 1, 2023 through January 10, 2024
and March 15, 2024 through April 30, 2024
If you purchase a Yosemite 360 Tour with us, you will not need to reserve a pass to the park for that day!
A FULL DAY OF YOSEMITE HIGHLIGHTS
Here are some of the famous Yosemite sights you'll see on your day touring the park. Scroll down for details or click the links below to jump to a particular highlight
PIONEER YOSEMITE HISTORY CENTER
Take a look back through time at Wawona's Pioneer Yosemite History Center! Here, you can see a bridge built by early settler Galen Clark in the 1850's, which was later covered by the Washburn brothers to remind themselves of their Vermont home. The South Fork of the Merced River flows under this bridge, which was once the only southern access to Yosemite Valley. There is also a collection of old horse drawn wagons to view in the open wagon shed, as well as a blacksmith shop, horse barn, and Wells Fargo Office.
TUNNEL VIEW
Tunnel View, also called Discovery View, is the gateway to Yosemite Valley. On a clear day, you exit Wawona Tunnel have all of Yosemite Valley suddenly revealed before you: massive El Capitan (3,000 feet tall) and Bridalveil Fall (617 feet) in the foreground, with views all the way to Half Dome, Cloud's Rest and beyond. On a cloudy day, the play of clouds on the landscape can make the view even more dramatic!
Fun fact: this viewpoint was designed to recreate the look from Inspiration Point on the old road, from which Thomas Ayres did the first known drawings of Yosemite Valley (it is often said his drawing was from Artist's Point further down the road, but the features in the drawing are not visible from that spot).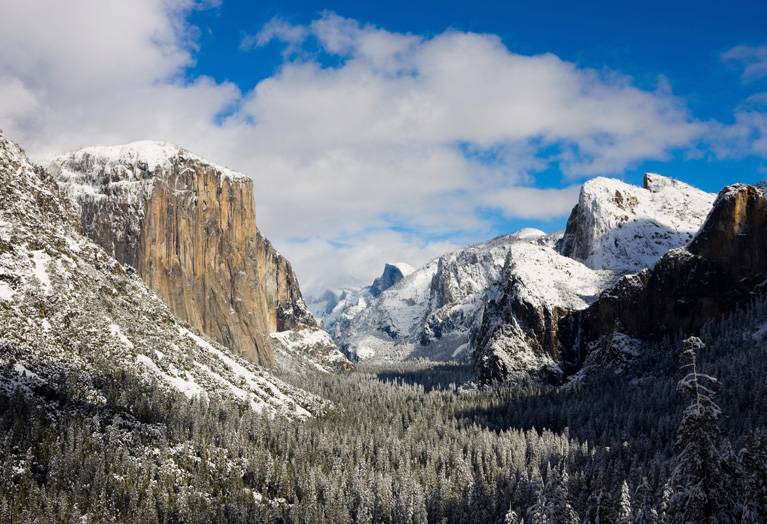 BRIDALVEIL FALL
We'll take a brief stop closer to the base of Bridalveil Fall for excellent views of both the falls and El Capitan. Those who wish will have the opportunity to make the short walk to the base of Bridalveil Fall. In the spring, you can see Ribbon Falls, dropping 1,610 feet to the Valley floor.
Fun fact: The Ahwahneechee name for this waterfall was supposedly Pohono, meaning "foreboding wind," so-called because they believed they could hear the voices of their ancestors in the sound of the spray. In high spring flow, linger in this area and you can feel where the name comes from.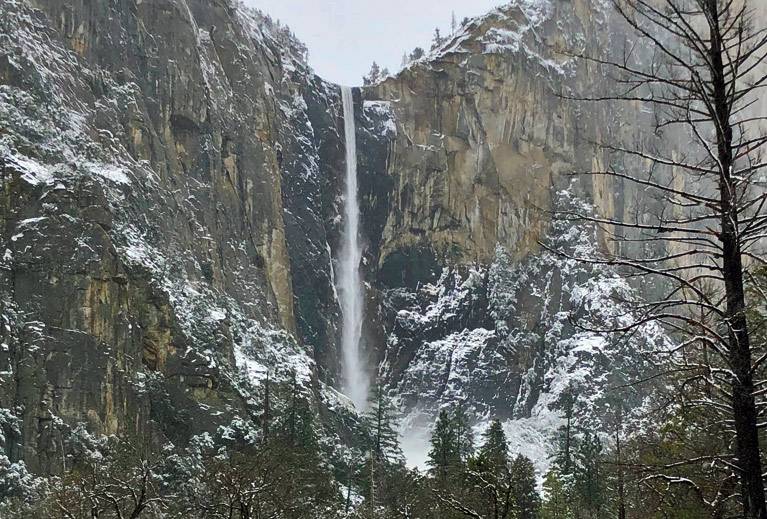 COOK'S MEADOW
Cook's Meadow is the heart of the Village section of the Valley with spectacular views of Yosemite Falls, Half Dome and the surrounding cliffs.
Fun fact: In the early 1900s, this meadow was known for turning yellow every night in July as the Evening Primroses opened. This spectacular scene inspired some of the first ever color photographs, hand tinted by Arthur Pillsbury, a photographic pioneer with a studio in Yosemite Valley.
YOSEMITE FALLS
It's just a short, wheelchair-accessible walk from Cook's Meadow to the Lower Yosemite Falls viewing bridge. The ambiance here can range from a peaceful quiet in late summer when the falls may be reduced to a trickle, to a virtual storm of wind and spray off the falls in spring flow.
Fun fact: Look up at Yosemite Falls and the notch in the cliff that it flows through. It is said that during the 1955 flood, the second biggest ever, the creek entirely filled that notch.
EL CAPITAN MEADOW
Look up. Way up! El Capitan rises about 3,000 feet above you, almost a vertical kilometer. If you look closely, sometimes you can find the climbers on the face, which will really give you a sense of the scale. Look for a tiny bit of color in that vast face. You'll need sharp eyes or binoculars to spot them.
Fun fact: When Warren Harding wrote about his ground-breaking 1958 first ascent of El Capitan in the American Alpine Journal, he quipped: "I suppose this article could be titled 'The Conquest of El Capitan.' However, as I hammered in the last bolt and staggered over the rim, it was not at all clear to me who was conqueror and who was conquered: I do recall that El Cap seemed to be in much better condition than I was."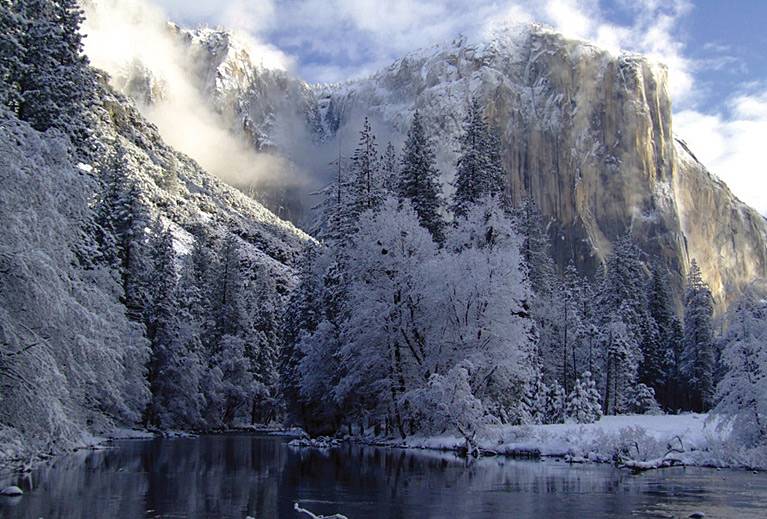 VALLEY VIEW
Valley View is one of the most-photographed sites in Yosemite, including the famous "Gates of the Valley" photo by Ansel Adams. Panoramic view of El Capitan, Half Dome and Bridalveil Fall.
Fun fact: This stop was once called Gates of the Valley, because back when the Valley roads allowed two-way traffic, this was the first real view of the Valley for visitors coming up the Merced River Canyon from El Portal.